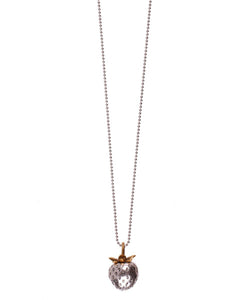 Hultquist Strawberry Necklace. Super sweet and finished in gold and silver plated brass with intricate detail, it looks almost good enough to eat! This scrumptious pendant certainly makes for a special gift idea! 


Jewellery Pouch
Jewellery presented in a black drawstring mesh pouch.
Jewellery Care 
We recommend that you take off your Hultquist jewellery when you sleep, bathe, during sports, cleaning and gardening.
All jewellery that is worn is affected by chemicals including perfumes, sweat, water, moisture, carbon monoxide, skin acids, etc. Therefore we advise you to remove your jewellery when you sleep, swim, sunbathe, practice sports, gym etc., and store in the jewellery pouch accommpanied with your jewellery to achieve longer durability.