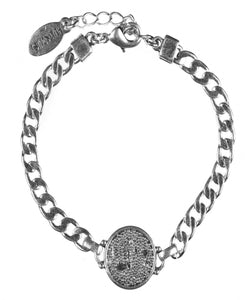 Hultquist Copenhagen Crystal Medallion Bracelet is a stunning statement item which looks amazing worn alone or layer them up to create a bohemian vibe!
A gorgeous silver plated item of jewellery by Hultquist-Copenhagen.
Adjustable size. 
Also available with a combination of silver and gold plated detail. View it here.
Jewellery Pouch
Jewellery presented in a black drawstring mesh pouch. 
Jewellery Care 
We recommend that you take off your Hultquist jewellery when you sleep, bathe, during sports, cleaning and gardening.
All jewellery that is worn is affected by chemicals including perfumes, sweat, water, moisture, carbon monoxide, skin acids, etc. Therefore we advise you to remove your jewellery when you sleep, swim, sunbathe, practice sports, gym etc., and store in the jewellery pouch accommpanied with your jewellery to achieve longer durability.